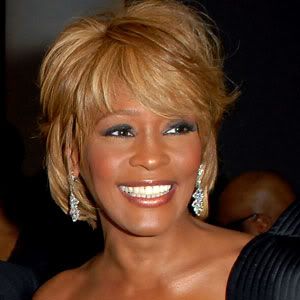 This post predicting Whitney Houston's death was first blogged September 15th, 2009.
With all those negative progressions I'm always talking about, you might think, considering Whitney's fall from grace, that she would have run into a really bad cycle. But no. Whitney Houston had it all, and an addictive personality brought her down (Pisces rising). What happened to her was a result of her own bad decisions.
Is she clean and sober now? There is no way of knowing since she has a proclivity for lying (natal Sun square natal Neptune — think Sarah Palin). Although, her chart still has very little activity. She has no reason to fall back into her old habits.
So this post is a warning to Whitney. Your bad cycles are ahead of you and not that far away. As soon as March 2012 (2 1/2 years), you will experience what so many others have, negative  conditions beyond your control (progressed Mars square). Like all people who have great fame and fortune before getting a cycle such as this, it's very difficult to be prepared for things going terribly wrong.
Whitney has time to get herself together in a manner that won't allow another fall from grace. She needs to stabilize her life, create a strong support system, give up all her wild ways and keep her faith. The party is effectively over. Time to grow up.
Once these negative cycles start, they continue, off and on, for fifteen years.